About Dean Foster
---
Dean is the founder of DFA Intercultural Global Solutions; and former Worldwide Director of Berlitz Cross-Cultural; and currently Executive Strategic Consultant for Dwellworks Intercultural.

Based in New York City, Dean has played a central role in the development of the field of cross-cultural training and consulting.

Dean has worked with most major Fortune 500 companies, national governments and NGOs (the United Nations and World Trade Institutes, among others), and as guest lecturer and faculty for premier educational institutions, including Harvard Business School, Columbia University School of Business, New York University, and Darden Business School. His work has taken him to more than 100 countries. He is the host on CNN of the nationwide "Doing Business in … " series; a frequent guest commentator on culture, global work and social issues for CNN, CNBC, the BBC and other radio and TV shows; and has been interviewed in Newsweek, USA Today, New York Times, and elsewhere.

Dean is a frequent presenter at major international conferences related to international cultural issues. He is an active member of and speaker at the annual international conferences of Worldwide ERC©, the National Foreign Trade Council, the American Society for Training and Development (ASTD), the International Institute for Human Resources (IIHR), and other organizations.

In 2012 Dean was inducted into Worldwide ERC's prestigious "Hall of Leaders"; in 2013 he received the Forum for Expatriate Management's acclaimed Lifetime Achievement Award.

Dean has written many articles and published five books, including Bargaining Across Borders, voted as one of the top ten business books of the year by the American Library Association. As a contributing editor with National Geographic, he wrote the monthly "CultureWise" column appearing in National Geographic Traveler Magazine.

Dean is on the faculty of American University's Intercultural Management Institute in Washington, DC. He received his Master's degree in Sociology from the Graduate Faculty of the New School for Social Research, NYC.
SPEAKING
---
Dean is a frequent presenter at major international conferences related to international cultural issues.

PRESENTATIONS BY TOPIC

NEW! CULTURE CLUES: How Travel Can Unlock the Hidden Truths About Cultures

Everyone has their travel stories, memories of successful and romantic adventures, as well as horrible missteps and mistakes. But our travel experiences also provide hidden clues to the deeper meanings that the culture we are journeying through is trying to reveal to us. In this new, interactive keynote, Dean reveals the secret meanings of many of the world's most meaningful cultures, through the stories of his own travel experiences. Learn how to transform your own next travel experience, and those of your friends and clients, into a deeply rewarding journey to understanding a culture like never before.

Audience: Travel and business travel industry

GLOBAL TRAVEL KEYNOTES

"WHEN IN ROME … ": Getting it Right Around the World. Whether traveling for leisure or business, putting your best foot forward can make the difference between an enriching or disappointing vacation, a successful or failed business trip. Today's global travelers need far more information than just where to go and what to see: they also need to know how to get along, in order to be welcome wherever they are. This presentation will explore those aspects of global etiquette, for each of the world's five major regions, that are essential to leisure and business success.

Audience: International travelers, armchair culturephiles

BUSINESS AND CURRENT AFFAIRS KEYNOTES

THE COMPETITIVE ADVANTAGE OF CULTURE: Leveraging Cultural Differences for Global Success.

Technical expertise alone is no longer the determinant of success in the global, 21st century: being able to transfer and translate your organization's hard-won expertise across cultural boundaries has become the single most important competitive advantage in today's global world. The future belongs to those organizations who can leverage cultural differences to their advantage. This presentation will show you the critical cultural issues faced by global organizations today and how to manage them for positive results.

Audience: International business travelers, global managers, global entrepreneurs

THE CULTURE PROPHECY: How Culture Reveals the Hidden Destiny of Nations.

Why is China becoming the world's factory; India the world's back office; France, the world's philosopher? And where does that leave the US? It may seem as if politics and economics drive the headlines, but a deeper look reveals the hidden driver behind the great events of history: Culture. This presentation will explore key national cultural characteristics and their roles in shaping the great events of history and today, and provide a new framework for thinking about the real forces that drive our world.

Audience: International business, global current affairs

BUILDING THE INTERNATIONAL TEAM: Creating High-Performance Teams Across Cultures.

Today's global team needs to work across time and space, challenged by language and cultural differences, different levels of technical expertise, and different perspectives on the task the team must accomplish. Developing an effective, smooth-working team requires an understanding of the dynamics of global teamwork, and this presentation explores the cross-cultural competencies that must be mastered in order for teams to succeed in today's global world.

Audience: Global teams, global business

BARGAINING ACROSS BORDERS: The Dos and Don't's of Successful Negotiating Anywhere in the World.

Different cultures negotiate business in different ways, and can even perceive the essential elements of the negotiating process in very different ways. Based on Dean Foster's award-winning book, "Bargaining Across Borders", this presentation explores everything you need to know to successfully negotiate business in the world's major cultural regions, from China and India in Asia, to Brazil and Mexico in Latin America, to the EU and the developing nations of the Middle East and Africa.

Audience: Global Business leaders

COMMUNICATING ACROSS CULTURES: Developing Cross-Cultural Fluency in a Global World.

Communicating is tough work: we often don't succeed even with those with whom we are most intimate, our friends, partners, children and parents. Now add cultural differences, language differences, time zones and the pressure of business requirements, and it's no wonder that communications often break down in the real-time world of global work. This presentation will explore all the elements of successful cross-cultural communication, from what makes a successful email to how to manage language differences in a videoconference meeting. Essential information for anyone working long-distance with colleagues around the world.

Audience: Global business, international travelers
writing
---
Dean has written five highly acclaimed books on working and traveling in global cultures, including the award-winning Bargaining Across Borders, which provides critical information on how to negotiate successfully in all the world's major cultures.

His four-book, "Global Etiquette Guides" series explores the important cultural dos and don'ts for each of the world's major regions, providing rich background information that explains how to behave more effectively when working and traveling in all the world's countries.

Dean's next book, CultureClues, will help both business and leisure travelers unlock the hidden meaning of the cultures they visit by finding the cultural clues in their own travel experiences.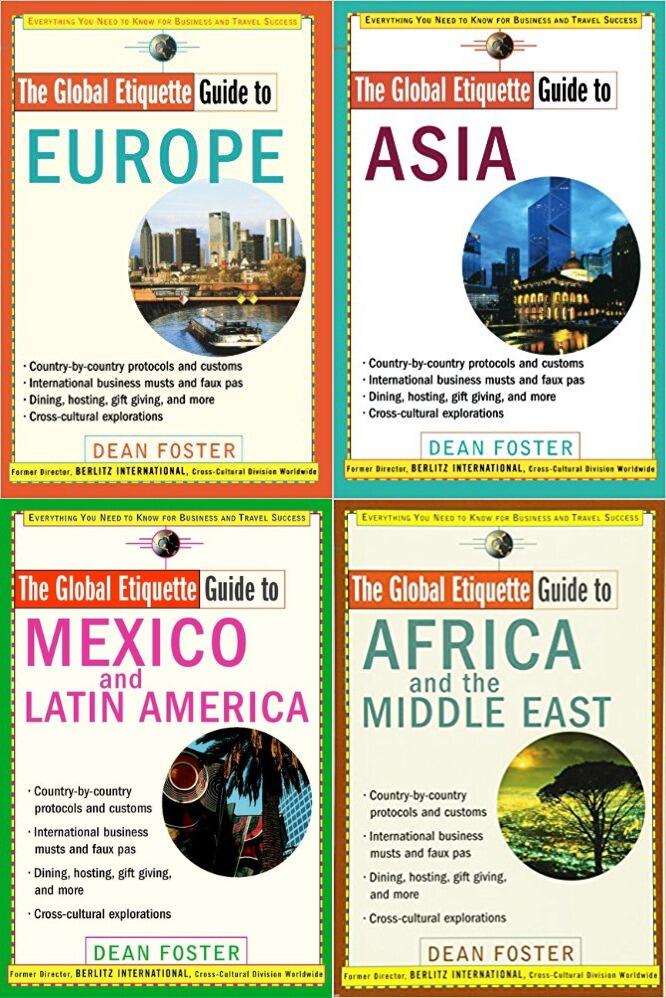 The Dean Foster Global Cultures newsletter shares articles, insights and announcements of interest to the global cultures community.
Dean's online column on Medium delves a little deeper into current global culture and other issues affecting global businesses today.
PODCAST
Oops, Your Culture's Showing!

Dean Foster and his co-host Tom Peterson travel the globe to reveal some amazing cultural dos and don'ts, holding up the mirror to discover (surprise!) how we actually look to others.  All this while searching for their own lost premise. 

Oops, Your Culture's Showing! is a fun and (almost) always irreverent look at how life—at least Dean's—can sometimes play havoc with the best laid plans for becoming a culturally correct, 21st-century, global citizen.
CONSULTING
DFA Intercultural Services, founded by Dean Foster, is now Dwellworks Intercultural, delivering customized, expert intercultural training and support. Dean is currently Executive Strategic Consultant.

Through insightful cultural self-assessment tools, one-on-one training, and practical cultural guides, we answer questions, address concerns, and provide international assignees with the cross-cultural skills for a successful adjustment to work-life culture abroad, and the organization with the cross-cultural expertise required for global work success in the 21st century.

Dwellworks is a business-to-business provider of services to the global corporate mobility and relocation industry.